Multidimensional Eye Virus 2.2
Growing pulsating rings unfold into the next dimensions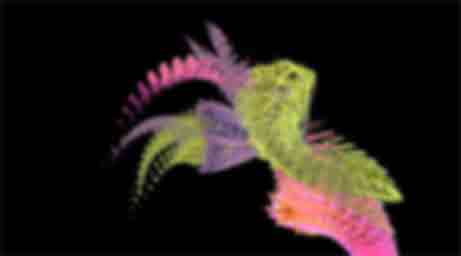 Running Time: 1.52 seconds




An elaboration on version 1.0, the circular forms grown out of kaleidoscopic shapes are taken into the next dimension, filling the screen with their pulsating bodies. As the unfolded dimensions collapse back into their origin, new entities take shape and replace them.
No strings attached.
Created procedurally within Adobe's After Effects, using Javascript.

View:
Quicktime movie
(8.08MB)
This work has been contributed to the Perpetual Art Machine

WPA|C Experimental Media Series - ColorField Remix
The animation has been included in the second night of this series, curated by Brandon Morse

WRO 07
The animation has been selected for has been selected for the 12th International Media Art Biennale WRO 07, in Wroclaw, Poland

PixelPops!
Both versions of the Multidimensional Eye Virus animations have been selected for this international exhibition in September 2006 in Prague, Czech Republic.



The animation has been selected for the 2006 Eurographics Animation Theater
The first generation: Version 1.0
The last generation: Version 3d